flat pack container accommodation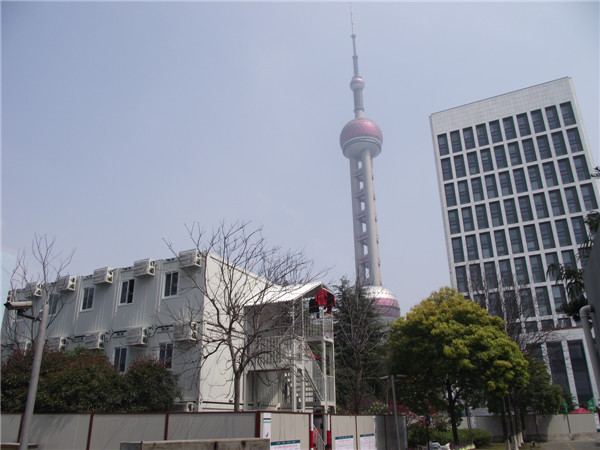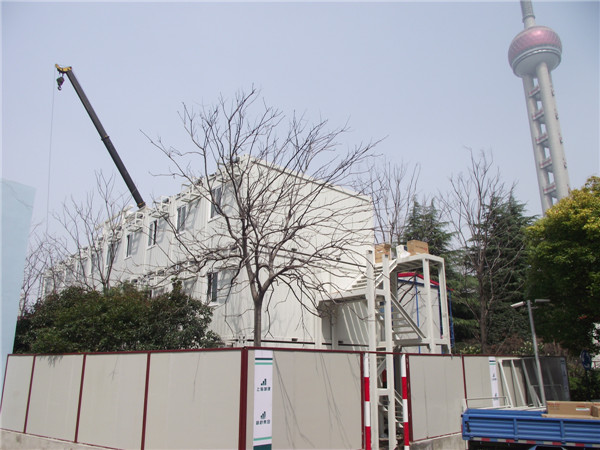 Features
Technical Data
Application
(1) Three stories . improving the land using ratio. Especially in the downtown center in Shanghai. The construction land is so limited. Supply more living space for the customers with 30 20 feet container houses.
(2) 1.2m wide ailse. Wide enough to allow two person walk across in opposite direction. Supporting by hard enough triangle steel fittings.
(3) Two unit of stairs with turning platform. It is wide enough and with stair railings. The post of the stair is steel structure, stable enough and fixed into the ground with concrete filling.
(4) Awning on the stair and ailse. The ailse and stair on third floor are cover with color steel awning. Protect from the raining and sunshine.
(5)
Air conditioners. Every container house is equipped with air conditioner.
1.Module container Size
Length: 6055mm;
Width: 2435mm;
Height: 2791mm;
Clear height indoor: 5860*2240*2500mm.
2. Components
Long beam: 3mm galvanized;
Short beam: 3mm galvanized;
Column: 3mm galvanized;
Wall panel: 70mm glass wool sandwich board;
Roof panel: 70mm PU and glass wool sandwich board;
Secondary beam: Z-shaped galvanized steel iron;
Floor panel: 18mm Chipboard panel+18mm magnesium floor board or 18mm cement- fiber +1.8/1.5mm PVC mat;
Door: Steel door, 870mmx2040mm;
Window: PVC Sliding window with Rolling shutter, 1100mmx800mm;
Width of ailse: 1.2m;
Width of stair: 1.2m;
Height of stair railing: 70mm;
Electronics, water supply and drainage: the parts in the containers are prefabricated.
3 Technical parameter
Roof load: 0.5KN/sqm (can reinforce the structure as required),
Wind speed designing: 180km/h (Chinese standard),
Seismic resistance: Magnitudes 8.
4. Packing details:
1)Flat packing, 4 units in one package, all knocked down, ship in SOC(shipper owned containers);
2)Flat packing, 7 units loaded into one 40'HQ.
Labor camp on construction sit;
Office building in factory or in mining field;
Container hotel in scenic spot.