Oil / Gas / Mining Field Camping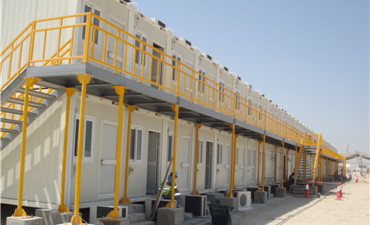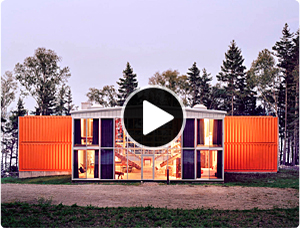 Features
Technical Data
Application



1. Delivery:
1)SOC delivery;
2)Container loading, flat pack loaded into 40'HQ.
2. Fast Installation instruction:
We will provide you full instruction manual and excellent after sale services. For special projects, we can also send our engineer to help you move in with satisfaction.
3. Our advantages:
Company competitive edge
1) Qualification: CE(DIN18800), ISO9001, BV, SGS;
2) Long time oversea project experience;
3) High Construction Efficiency (2 worker in one day for one unit);
4) 4S sales and service network, buy a house just like to buy a car;
Brand Name: Haicheng
Products advantage
1) Integrated base and roof, PU injected, excellent strength and tightness;
2) 0.426mm color steel sheet for sandwich wall panel, strong and beautiful;
3) Durable, beautiful, economic and environmental;
4) Long life time (Max. 10 years);
5) Easy to transport and assemble (Can load 7 units into one 40'HQ).
1.Module container Size
Length: 6055mm;
Width: 2435mm;
Height: 2791mm;
Clear height indoor: 5860*2240*2500mm.
2. Components
Long beam: 3mm galvanized;
Short beam: 3mm galvanized;
Column: 3mm galvanized;
Wall panel: 70mm glass wool sandwich board;
Roof panel: 70mm PU and glass wool sandwich board;
Secondary beam: Z-shaped galvanized steel iron;
Floor panel: 18mm Chipboard panel+18mm magnesium floor board or 18mm cement- fiber +1.8/1.5mm PVC mat;
Door: Steel door, 870mmx2040mm;
Window: PVC Sliding window with Rolling shutter, 1100mmx800mm;
Electronics, water supply and drainage: According to the local law.
3 Technical parameter
Roof load: 0.5KN/sqm (can reinforce the structure as required),
Wind speed designing wind speed: 180km/h (Chinese standard),
Seismic resistance: Magnitudes 8.

4. Packing details:
1)Flat packing, 4 units in one package, all knocked down, ship in SOC(shipper owned containers);
2)Flat packing, 7 units loaded into one 40'HQ.
(1)oil / gas / mining field camping;
(2)construction site camping.